Only Digital Health Rewired offers you opportunities to:
Network with the most senior digital health leaders
We attract more NHS IT decision-makers than anyone else, giving you more opportunities to engage with the right people. Build and make new relationships with forward-thinking executives.
Bring your brand to 2,500 energised NHS IT professionals
Our dynamic content programme inspires delegates to actively scope and find technology suppliers on the exhibition floor that can help them meet their digital ambitions.
Showcase your solutions and thought leadership position
By bringing together high-quality successful conferences and tracks, Rewired 2020 offers unrivalled opportunities to promote your unique proposition to CCIOs, CIOs, and NHS IT leaders.
Put Your brand amongst a senior NHS audience
Building on our explosive first year where we attracted over 1,600 delegates and a core audience of NHS CIOs, IT directors, CCIOs and clinical IT leaders, CNIOs, chief executives, finance directors, and other senior health leaders, Rewired 2021 will be bigger and better.
Digital Health Rewired is developed with the industry experience and knowledge of digital health and its extensive audience networks. The programme will continue to innovate, add new topics, features and engagement opportunities, attracting over 2,500 attendees in 2020.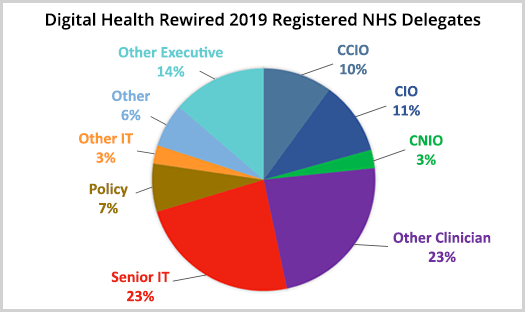 Digital Health Rewired is the best place to connect with the health IT market. Partner with us for 2021 and put your brand in front of over 2,500 of the key decision-makers in digital health. If you're interested in joining us for 2021, please contact our sales team or complete the form below to find out more.
Download our Sales Brochure
Enquire About Sales Opportunities
Leadership Summit Sponsors