The Digital Health Rewired 2020 programme will provide you the opportunity to hear from the founders and CEOs of cutting-edge digital health start-ups, now shaking up health and care. Three of the must-see disruptive digital health leaders at Rewired 2020 are:
Dr Ben Marruthappu is the former special advisor on technology to Simon Stevens and CEO of Cera Care, the technology-enabled home care provider using digital and AI to improve and consolidate elderly care services. Cera has received 25+ awards including Outstanding Home Care Agency of the Year, Best Technology in Care, Digital Health award for best use of AI, and Britain's Health Startup of the Year. Ben was listed in WIRED's Top 10 Innovators in Healthcare.
Daan Dohmen is a Dutch serial digital health entrepreneur, and founder and CEO of Luscii, the digital platform that hospitals can use to monitor patients at home via telemonitoring and virtual care. Luscii, now active in 4 countries, aims to prevent emergency admissions and reduce unnecessary outpatient visits and has secured worldwide partnerships with Apple and Omron, and has already accomplished over a million virtual care moments.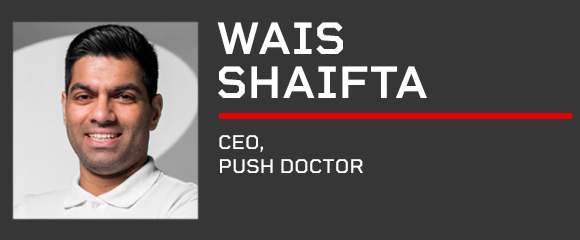 Wais Shaifta joined online GP video service Push Doctor in 2017, becoming CEO last year, and shifted Push Doctor's focus to being a comprehensive digital health provider focused on giving patients easier access to services. Prior to joining Push Doctor, Wais spent three years with wellbeing platform Treatwell and six years with
Just Eat, leading the food delivery portal's UK operations and international expansion.
Sign up to the Digital Health Rewired Newsletter