Pitch for the chance to win NHS pilot site opportunity for your idea or start-up
The Rewired Pitchfest on 4 March 2020 provides an opportunity for early stage digital health start-ups to compete to be named the Rewired Pitchfest winner by our judges.
Run as part of the Digital Health Rewired Conference and Exhibition, the Pitchfest is a great opportunity to showcase your start-up or idea in front of the unique Rewired audience of NHS IT leaders. The judging panel will include investors and founders of successful digital health start-ups.
The winners of the 2020 Digital Health Rewired Pitchfest will be offered the opportunity to have their innovation tested and scaled in a real-world NHS setting.
Chelsea and Westminster Hospital NHS Foundation Trust and their charity, CW+ will offer winners a real-world test bed in whichever care setting their concept or start-up is based.
Who should enter?
You might just be at the idea stage or you may have a project you are just starting up and need support and funding want to take to the next stage, or you are raising further investment to grow to the next stage.
Pitching process
On the morning of the Pitchfest groups of start-ups will each deliver a three-minute pitches and then answer questions from the judges live on stage.

A winner from each group will be chosen to go through to the final at the end of the morning, where finalists will pitch again, and the judges will then name an overall Pitchfest winner.
Widespread exposure for winners
The Rewired Pitchfest winner 2020 will gain a lot of exposure to the diverse range of digital health leaders at Rewired. We'll also arrange a mentoring session with the judges and feature the winning start-up on Digital Health News and partner publications.
Deadline for entries is Tuesday 28 January at 1pm. Unfortunately we will not be able to accept any late entry.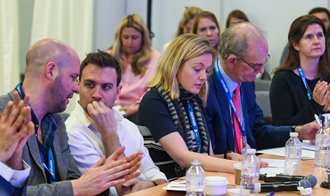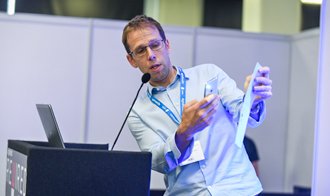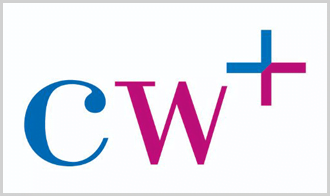 Meet last year's Pitchfest finalists

Lantum – a member of the NHS Innovation Accelerator, is a total workforce platform for healthcare staffing with the aim to save the NHS £1bn annually on agency spend.
Mendelian – focused on shortening the diagnostic odyssey of rare and hard-to-diagnose diseases using machine learning. It is used by 3000+ clinicians from 150+ countries. Rare disease patients have cost the NHS in excess of £3.4 billion.
Oxipit – focused on AI-medical imaging, Oxipit has developed a tool that automates reporting on chest X-rays, the most frequent medical imaging modality.
TestCard – TestCard has innovated an at-home urine test kit, which arrives with a consumer as a postcard with fold-out urinalysis dipsticks. An accompanying mobile app turns a phone's camera into a clinical grade scanner delivering an immediate and precise result.
MeeTwo – MeeTwo says its mission is to provide mental help at a global scale, by empowering people to help themselves by helping each other. The MeeTwo app is a best practice example of a safe, scalable way to deliver fast, effective mental help.
Vitrue Health – Vitrue's computer vision and inertial sensor-based technology is said to improve the accuracy and efficiency of musculoskeletal assessment. The technology accurately measures and reports a patients motor function while fitting into standard clinical practice.
Truu – Truu says it is modernising the way medical services verify staff identities and qualifications. Employees prove who they are instantly, securely and digitally. They own, control and manage their digital credentials, just like physical documents.
On The Mend – On The Mend is a London-based pre-seed health tech start-up, designing innovate tools that get people better quicker through physical therapy by providing greater support and incentives to anyone with a diagnosed musculoskeletal disorder.
SurgEase – SurgEase says it is revolutionising the early diagnosis of rectal cancer. Hardware and software solutions will permit the least skilled healthcare workers to make diagnoses at point of care; increasing cancer screening and reducing delays in diagnosis.
Reach Active – Reach says it is the only B2C full physiotherapy app tackling MSK pain. The start-up has built the first digital-only assessment and exercise plan, and us growing at over 40% month-on-month.
MediShout – The MediShout app allows ward staff to instantly report and resolve ward problems that usually delay them; improving hospital efficiency and allowing clinicians to focus on patient-care. Nine hospitals so far use the app .
Triscribe Ltd – Triscribe is building AI and machine learning based on data from hospital electronic prescribing systems. We help front line clinicians optimise medicines usage, improve patient safety and reduce the burden of routine reporting.
Statica Research – PEP automatically gathers, filters, and consistently scores millions of items of unsolicited public feedback in near real-time. PEP is claimed as a proven predictor of CQC inspection findings and drives quality improvement activities within Trusts.
ByzGen – ByzGen say that have partnered with leading universities to develop a data security and assurance platform which utilises a distributed ledger technology backbone, coupled with our own unique encryption capability.
Cievert – Cievert uses AI to improve clinical follow-up by automatically assessing patients remotely. We've managed over 100,000 NHS patients to date using our referral management tool, with a follow-up tool – called Penguin – in development.
Dr Julian – Dr Julian increases access to mental healthcare. We connect patients securely within days, seven days a week, through our platform to vetted therapists offering them choice of time and type of appointment ie video/audio/text they want.